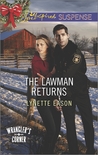 The Lawman Returns by Lynette Eason
My rating: 4 of 5 gargoyles
Book received from NetGalley in exchange for an honest review.
I enjoyed this book. I didn't think beyond the current plot (as to who might actually be running the show), but once a particular event had, it became pretty clear who the ultimate villain was. Thankfully, the villain got their just desserts.
Now, onto the characters. Clay – pretty decent guy, even though he's carrying around some major guilt for not coming back to town sooner and blaming himself for his brother's death. He stretches the limits of what he can do (since he couldn't be on the case of his brother's murder for obvious reasons) in trying to figure out how/why he died. I enjoyed spending time with him.
Sabrina – It takes guts to be a social worker even in a small town. To CONTINUE being devoted to one's job after people start shooting at one, makes it even more amazing that Sabrina didn't just run for the hills. No, she stayed on course and looking out for the kids she was supposed to protect.
There were some great twists and turns. I found the book progressed nicely as it comes to flow – I definitely turned the pages faster and faster as I got closer to the end because I just HAD to know whodunit. I was a bit surprised actually on all fronts regarding the villains, so that always makes a nice surprise.
The resolution was satisfactory and even though this was my first book by Ms. Eason, I'm pretty sure it won't be my last!